Marianne Recommends

Newest Book by Neale Donald Walsch
Late last year a very powerful book was released by my friend Neale Donald Walsch, called The Storm Before The Calm.
---
Courage: Overcoming Fear and Igniting Self-Confidence – Newest book by Debbie Ford

Experience a new kind of courage and confidence that will propel you into an infinitely beautiful and inspiring future by reading my friend Debbie Ford's newest book, Courage: Overcoming Fear & Igniting Self-Confidence.
---

Parenting Without Power Struggles
Family therapist Susan Stiffelman has shown thousands of parents how to be the cool, confident "Captain of the ship" in their children's lives. Parenting without Power Struggles is an extraordinary guidebook for transforming your day-to-day parenting life. (more info)
---
Don't Sweat the Small
Stuff for Moms

My friend Kristine Carlson has written a wonderful book called Don't Sweat the Small Stuff for Moms: Simple Ways to Stress Less and Enjoy Your Family More. Amazon.
---

Starve a Bully, Feed a Champion: 101 Days of Spiritual Boot Camp for Attaining Serenity, Confidence, Mental Discipline & Joy in a World Gone Mad
Jacob Glass is as funny as he is deep. He's one of my favorite teachers of A Course in Miracles. Amazon.
---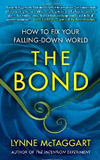 The Bond: How to Fix
Your Falling-Down World
The Bond offers a radical new blueprint for living a more harmonious, prosperous, and connected life. International bestselling author Lynne McTaggart demonstrates with hard science that we are living contrary to our true nature. Amazon.